Support us like a :
Nowadays, companies wish to leave a legacy through their financial impact but they also want to leave a human legacy. Art, culture and heritage are time-honoured values displaying social and societal commitment for companies wishing to build a strong identity.
Join with us in a structural way or on an ad-hoc basis to ...
Redefine your company's values

Create a specific project

Organise an exhibition

Share a passion

Make a commitment to future exhibitions

Be a partner to a specific topic or project

Raise your customers' awareness of culture

Associate your staff with a cultural project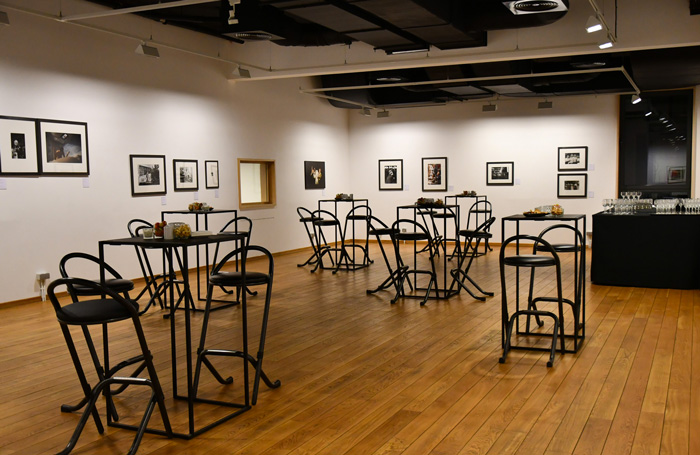 Choose the status that matches you best as regards your profile, the proposed benefits and the subscription.
Partnerships from € 5,000 excluding VAT
(Other returns can be defined by mutual agreement with the partner)

Free use of the Museum spaces for your corporate events (Cocktail, sit-down dinner, conferences, "team building" workshops)
Involvement of your staff in internal social / educational projects (thematic projects included)
Discount on our courses for adults / childs (included company staff's children)
Discount for purchases in the Museum shop (corporate gifts, end of year gifts)
Discount at the Museum Café (max. 5 courses - drinks not included)
Free entry to the museum for one year for x person (3/entreprise) + 10 guests
Free entrances sended to your company headquarters (to be distributed to your staff / during a promotional campaign / social actions / others)
Invitations to the vernissages of exhibitions for your company's boardmembers (maximum 4) and their guests. Number to be defined according to convention
Invitation to the vernissages (3/year) for company's representatives (max. 4) and their guests. Number to be defined according to convention
Photographie Ouvertemagazines – for each exhibition period (sent to the company's registered office) – Delivery by post. Number to be defined according to convention
10 exhibition's catalogs of your choice per year, signed by the author and / or the photographer (at the partner's request). Museum edition only. Number to be defined according to convention
Free and priority access to the meetings organized by the museum for 2 people (by invitation only)
1 year Membership for 4 persons to the « Amis Ambassadeur/Entrepreneurs » (according to convention)
Discount / free entranceat partner museums: BPS 22, Musée de l'Elysée à Lausanne, etc. List in progress
Company name on all communication's media and the wall dedicated to the "Amis du Musée" and Museum partners

You would like to associate your company with an exceptional institution recognized at European level. Preserving culture and heritage are important to you. You want to involve your customers and your staff in an ambitious project? You want to define yourself as a company "sponsor of culture and heritage".

Based on a theme, a strategic choice, to support a promising artist, to complete a collection already acquired, ...
Each year, the management of the Photography Museum takes care to locate, negotiate and buy photographs that have marked or will mark the history of photography.
Take part in this story and see your name on the cartel of one of the acquisitions (according to convention)
Invitation to the "Annual Museum's Acquisitions'event"
Other tailor-made returns.
Free annual entry to the Museum ("Partner Of" card)

On the cartel :

Acquired thanks to the support of:

First name + name / Company name

You are looking for a different and original visibility space? You want to associate your image with one of the largest museum dedicated to photography in Europe and participate in its international influence. You want to mark your cultural commitment and distinguish yourself

1st option

€ 2500 VAT

For each exhibition period, the museum prints a 25m2 tarpaulin illustrating each major exhibition presented at the museum.

Cartel with your logo and the name of your company next to the chosen tarpaulin
Mention of your support in the museum's newsletter (5000 contacts) and in the magazine "Photographie Ouverte" (2400 copies)
20 free tickets for two (20 per year for the duration of the partnership), to be distributed to your customers and / or members of your staff
1 exclusive visit of the museum (permanent and temporary exhibitions (1 guide offered) for 20 people. Possibility of organizing a cocktail party (catering at the expense of the organizer)
Reduced contribution (20%) for 1 person to the category "Ami Ambassadeur".

2nde option

€ 1500 VAT

Cartel with your logo and the name of your company next to the chosen tarpaulin
Mention of your support in the museum's newsletter (5000 contacts) and in the magazine "Photographie Ouverte" (2400 copies)
Make a gift
Financial gifts, donation, bequests … The museum of photography thanks you for all the expressions of appreciation, support and recognition over the last 30 years. Do not allow our history to disappear ! Like many charitable institutions, the museum of photography is investing in the future with a memory for the past. the gift is a means for you to get involved and initiate your involvement in the future.
Make a gift
Contact
Every partnership / membership may be complemented by an additional gift separate from the subscription. Gifts are tax deductible from EUR 40.
Any gift shall be paid separately from the subscription with the reference: "Surname-First name+Gift"
Our values, our commitment … As an entrepreneur for the future, the Museum :
Conserves and increases :
Its collections every year and these collections number 8,000,000 negatives and 80,000 photographs.
Supports and encourages :
The development and the recognition of artists through the purchase and the presentation of works.
Young people through educational, creative and historical workshops.
The social sphere through internships allowing training and social reintegration.
Nature and animal conservation in its 2-acre grounds containing some varieties of trees and many animals finding refuge there (various species of wildcats, birds, hedgehogs, insects, etc.).
Local, regional, national and international heritage through photographical projects around Charleroi.
Photographs through its Open National Photography Prize offering young Belgian photographers the opportunity to be recognised and exhibited for a whole season within the Museum.